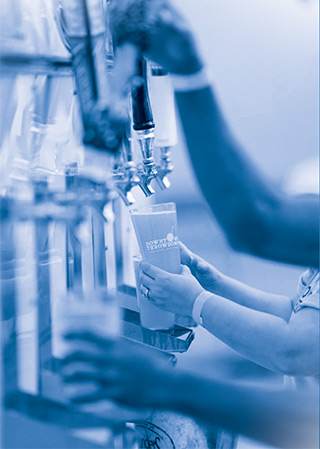 Downtown Throwdown BBQ & BREWFEST
Experience some of WV's Tastiest BBQ creations and Frostiest Craft Brews!
The area's favorite beer & barbecue event continues to grow every year with over 1,100 attending in 2017. Come hang out with friends, enjoy a cold brew, and taste incredible food from local restaurants. Vote for your favorite and help a local business take home the grand prize trophy. Tickets are typically on sale in August each year.
Saturday evening, September 15th from 6 p.m. to 10 p.m. – All are welcome to attend the Downtown Throwdown which is a craft brew and barbecue blowout that features fantastic food, frosty beverages and live local performers making inspired music! It takes place in Parkersburg's Bicentennial Park (201 3rd Street), in historic downtown Parkersburg.
The Throwdown will once again coincide with the Harvest Moon Festival an arts and crafts fair at City Park.

---
For more information on Downtown Throwdown, visit downtownpkb.com