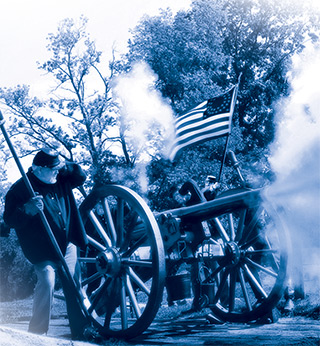 Henderson Heritage Festival
History & Heritage
Journey into the past and experience the backstory of Greater Parkersburg as it comes alive at intriguing historical sites and detailed museum exhibits. Uncover hidden gems of Appalachian American history at the nationally recognized Oil and Gas Museum, Blennerhassett Island Historical State Park, Blennerhassett Museum of Regional History and Henderson Hall — a time capsule of the Victorian Era and vessel of the region's pioneer heritage.
Originally dubbed Newport in the late 18th century, Parkersburg was officially renamed in 1810 as it was gifted to Captain Alexander Parker for his service in the Revolutionary War. During the American Civil War, the B&O Railroad at Parkersburg played an important part in the first invasion of the Confederacy and served as a medical center for Union soldiers. The city later transformed into a transportation hub during the oil and gas boom of the late 18th and early 19th centuries, which visitors can explore at the Oil and Gas Museum.
As one of West Virginia's most historic cities, Greater Parkersburg is steeped in the memory of days gone by. Visitors can experience our town's biography first hand at several of our historical sites — including the Julia-Ann Square Historic District, Blennerhassett Island, Henderson Hall, The Blennerhassett Hotel in downtown Parkersburg, and more.
Walk through the halls of resplendent Victorian residences belonging to some of the most influential figures in West Virginia's history at the Julia-Ann Square Historic District — a collection of more than 120 homes dating from 1850 to 1910. Visit during the holidays for a special Christmas tour, or if warm weather is more your thing, take the Annual Spring Garden Tour to enjoy the beautiful landscaping of this slice of Victorian life. Or take a walking tour through the historic district any time you'd like.
Take a ride on our authentic sternwheel boat, the Island Belle, across the Ohio River to Blennerhassett Island — an island with a dramatic past and scandalous backstory. Before setting off on your voyage, stop by the Blennerhassett Museum of Regional History to peruse local artifacts and purchase tickets for the sternwheel ride to the Island as well as for activities including a mansion tour and horse-drawn carriage ride.
Stay awhile at The Blennerhassett Hotel, a grand and stately structure with a past dating back more than a century. While there have been many updates and renovations to the hotel over the years, the building has stayed true to its original glory with its interior decor and inviting facade. The Blennerhassett Hotel's signature on-site restaurant and bar, offer a casual yet elegant atmosphere and a menu of decadent selections.
See "More Attractions" to discover more about Parkersburg's unique history, and plan your visit today.