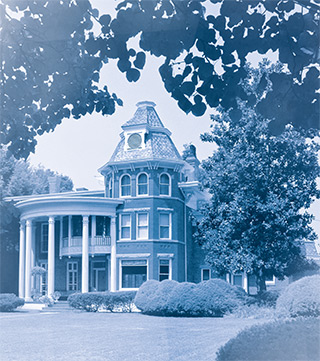 HISTORY
Julia-Ann Historic District
Julia-Ann Square Historic District is the largest and oldest historic district in West Virginia and was an important center in West Virginia's early history. Homeowners were comprised of leaders from the community including bankers, businessmen, professionals and political figures who had the financial means to construct the best houses of the time. Comprised of approximately 126 homes, the district's structures are in the Second Empire, 19 century eclectic and Queen Ann styles dating from c. 1850 to 1910.
The Historic Walking Tour of the Julia-Ann Square Historic District features 49 houses and a historic church. Each house on the tour can be easily identified by the presence of a metal plaque in the front of the house indicating "Historic Walking Tour" and the street address. Visitors can pick up a free copy of the walking tour guide at the CVB office.
To start the tour from the CVB office and visitor center, turn left at the entrance of the visitors center and walk down 7th Street to Market Street (1 block). Turn left and walk down Market Street past 6th Street to start your tour.
Please note that the private homes are not open to the public, but we invite you to appreciate their architectural and historical significance. Phone: (304) 422-9861