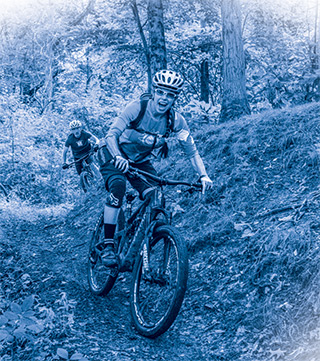 Explore The Great Outdoors
Greater Parkersburg features some of the best mountain biking, hiking trails, and motorcycle routes in the country — not to mention scenic kayaking on the Ohio River. So fill your adventurous spirit and hit the water, or hike, bike, and ride through our curvy, breathtaking Appalachian hills on an outdoor adventure that's all your own.
Mountain Biking
With 225+ miles of singletrack trails and 72 miles of rail-trail to explore, Greater Parkersburg is a hot spot for mountain biking and bicycle riding in general. Experienced and novice bikers alike can find trails with a suitable difficulty, as the terrain of our state parks varies.
Known for its mountainous scenery, the North Bend Rail Trail offers easy riding across the length of north-central and western West Virginia, taking riders on a journey across 36 bridges and through 10 tunnels along the way — one of them being the "haunted" Silver Run Tunnel. Johnson T. Janes park offers a relaxing and mostly flat loop with a few challenging climbs that can always be omitted for a super-friendly beginner's level ride. Across the river in Marietta, bicyclists can venture to the Marietta City Trail Network, which connects more than 30 miles of trail to the town's historic downtown area.
Adjacent to the North Bend Rail Trail, North Bend State Park features a challenging singletrack that surrounds the park's lake, campgrounds and lodge. But the most rugged and largest concentration of trails can be found at Wayne National Forest — with 80 miles of trail on 64,000 acres, challenge yourself with a single or multi-day ride. Mountain bikers can also find thrilling rides at top-rated, 2,000-acre Mountwood Park with 35 miles of flowing trail surrounding a pristine lake.
Mountwood Park also offers a complete horseback riding experience with 30 miles of horseback riding trails, a campsite with showers, and even a stall to house your equine friend. Pack up your family and bring your own horse from April 1 through October 31 for a memorable ride through one of West Virginia's most beautiful parks.
MORE ATTRACTIONS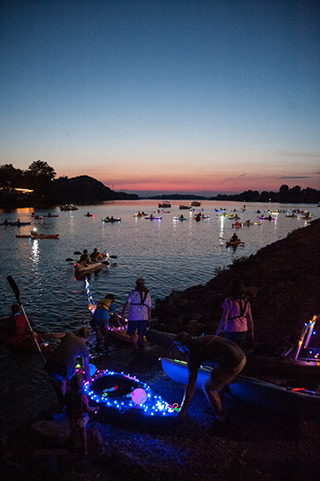 Kayaking
Grab your paddle and hit the water for scenic kayaking in Parkersburg that the whole family can enjoy. At the Ohio River Water Trail, kayakers can paddle 39 miles of the Ohio River and 18 miles of the Little Kanawha River, located in and around Wood County, West Virginia. The Little Kanawha itself is a hidden gem, offering gentle and flat currents for paddlers of all kinds. Access points to the Little Kanawha can be found at Point Park in downtown Parkersburg, right outside city limits in Corning Park, and 11 miles outside of Parkersburg at Leachtown. In addition to great kayaking, the Little Kanawha is a fantastic spot for people looking to catch musky and small-mouth bass.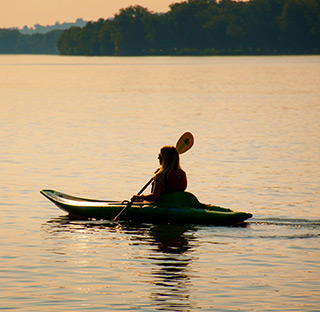 Hiking
Traipse through the woods on some of the best trails in the Appalachian Mountains in Greater Parkersburg's state parks. At North Bend State Park, hikers can explore 14 hiking trails stretching 26 miles, ranging from beginner to expert mode. The 277-acre McDonough Wildlife Refuge features sightings of West Virginia wildlife including white-tailed deer, turkey, red and gray fox, and coyote along its clearly marked trails. Hiking, biking, ATV driving, camping, bird-watching, fishing, boating and more can be found at Mountwood Park, which lives up to its slogan, "something for everyone."