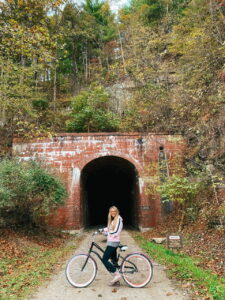 North Bend Rail Trail
The North Bend Rail Trail is a multi-use recreational trail operated by West Virginia State Parks. Formerly an abandoned spur of the CSX system, the trail is part of the 5,500-mile coast-to-coast American Discovery Trail. Stretching 72 miles from I-77 near Parkersburg in Wood County to Wolf Summit in Harrison County, this scenic trail passes through 13 tunnels and crosses 36 bridges. Easily accessible from north/south Interstates 77 and 79, the trail nearly parallels US Route 50 east and west.
The trail passes through wild and natural areas, farmland and a variety of small rural communities that grew up along its length. The many points of interest and history include the Old Stone House and the former Stage Coach Inn at Pennsboro, a marble factory, hand-blown glass factories, outlet stores, arts, and craft markets, fairs and festivals, sites of train robberies and legends of tunnel ghosts. The trail also passes numerous state, county, and local parks.
In the tumultuous years before the Civil War and the creation of the state of West Virginia, the former rail corridor was constructed by the Baltimore and Ohio Railroad between 1853 and 1857. The trail boasts 13 remaining tunnels constructed by the railroad. The number 10 tunnel west of Ellenboro, for example, is 337 feet long and is a "raw" or natural tunnel which is bored through solid rock.
Trail users are encouraged to wear blaze orange or brightly colored outerwear during hunting seasons in West Virginia. The North Bend Rail Trail is for hiking, biking, and horseback riding only. The trail right-of-way passes through private property where hunting activity may occur. Hunting is not allowed on or from the North Bend Rail Trail.
MORE ATTRACTIONS