Few places have a storied past as fascinating as Greater Parkersburg. Travel down river on an authentic sternwheeler and discover the tragic story of Harman and Margaret Blennerhassett and their encounter with Aaron Burr. Then head up to Williamstown, WV and Marietta, OH to learn about the first settlement in the Northwest Territory.
Click Here to Print the Museum Trail Map
Museums to See:
***The museum is temporarily closed. You may contact the museum secretary at (304) 916-2107
The museum offers over 1,700 square feet of displays honoring veterans of all services from WWI to the present while educating the public on their service. The museum also includes a video and book library for research.
Blennerhassett Island – Site of the alleged plot by Aaron Burr and Harman Blennerhassett to establish a southwest empire. Features the reconstructed Blennerhassett Mansion, guided tours, concession stand, gift shop, narrated wagon rides, hiking trails and picnic facilities. Frequent special events include Mansion by Candlelight each October. Open May–October. Exact schedule varies with the seasons. Please call to confirm the Island will be open on the day you plan to visit (always closed on Monday).
Blennerhassett Museum – Start your Blennerhassett experience at the Blennerhassett Museum. The museum is located in downtown Parkersburg with three floors of intriguing archaeological and historical exhibits of the Blennerhassetts and the area, extensive gift shop and video explaining the Blennerhassett's story.
This nationally recognized museum presents the intriguing history of the oil and gas industry, including how the accumulation of wealth from oil impacted West Virginia's statehood. Also expanded displays on the Civil War and local industries.
Built-in 1859 as the centerpiece of the 2,600-acre Henderson plantation, this impressive 17-room pre-Civil War mansion with all of its original furnishings, has survived as a legacy of the Victorian and Edwardian eras.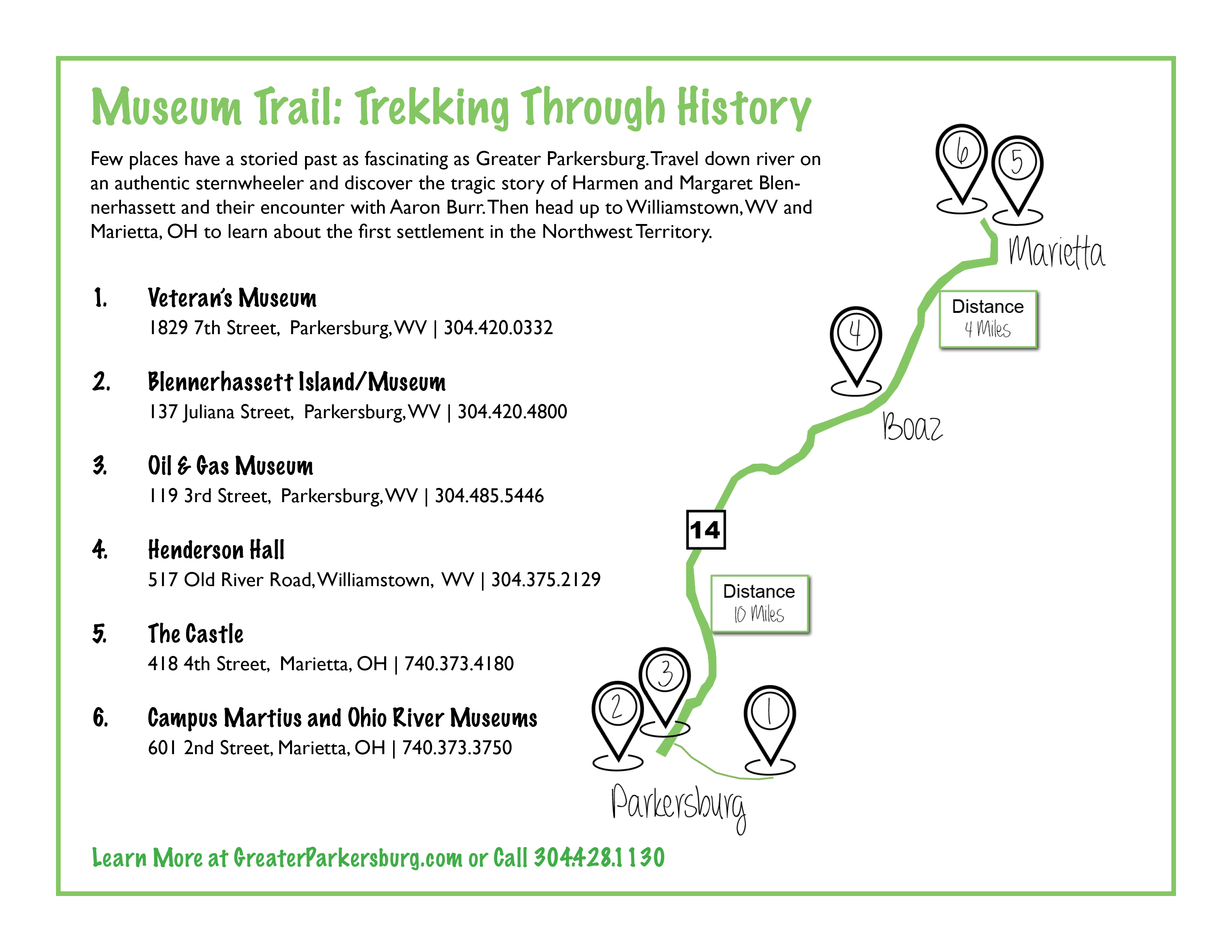 The Castle of Marietta is one of the best examples of Gothic Revival style of architecture in Ohio. It is also where everyone comes to experience history firsthand.
This museum displays more than 200 years of history, featuring exhibits and artifacts that show who moved to the area and why. Featured inside the museum and on its original location is the complete Rufus Putnam House, one of the oldest residences in the Mid-Ohio Valley.