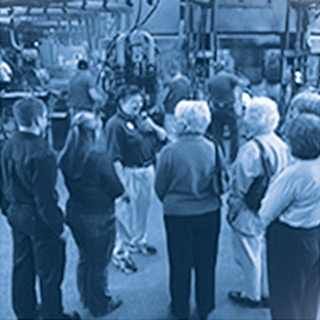 GROUP tours
To assist you in planning and conducting your group tour, the bureau offers a variety of services to make the job of the planner much easier and the outcome of your tour more successful.
Unless otherwise noted, these services are provided free of charge.
The bureau represents the entire Parkersburg area from various business interests to all segments of the hospitality industry industry. Our experienced and knowledgeable staff is ready to offer personal and professional attention to your group tour needs.
Fam Tours – our staff will accompany you on a personalized Fam tour of local attractions, unique shops, hotels, restaurants, etc. and introduce you to their sales and servicing representatives.
Itinerary Development & Scheduling – based on your requests and the interests of your group, our staff will develop a tentative itinerary for your consideration. Upon your approval, our staff will confirm the details with the local suppliers. Click here to download a Group Tour Itinerary Planner.
Suggested Itineraries – if you prefer, our staff has a variety of suggested itineraries with contact names and telephone numbers that you can use to plan your visit to our area.
Discount Coupons for Shopping – based on availability, our office can provide enough coupons for discounts and other special offers from the unique shops on your itinerary for each member of your group.
Special Programs & Events – we can suggest and help make arrangements for special programs and activities to make your tour even more special and unique.
Suppliers – our staff can provide the names of local businesses and organizations that can accommodate group tours or provide the services your tour may require.
Hotel/Motel Listings – the bureau maintains a listing of most area lodging facilities with or without rate information to assist you in making your lodging decisions.
Restaurant Listing & Tour Menus – our staff can provide a listing and/or sample tour menus from local restaurants to help you in making dining choices.
Local Street Maps & Directions – the bureau has maps of major local streets and highways as well as driving directions available to assist your escort and/or driver.
Step-On Welcome – upon request, we are happy to greet your group, welcome them to our area and give them a brief introduction to Greater Parkersburg.
Favors & Gifts – our staff can suggest items produced or available locally for use as favors or gifts for your entire group, your group leaders or other individuals. Some items may involve a cost.
Sales Builders – we can provide a variety of promotional brochures along with photographs and scanned images for your publications or other use.
If you are in need on a tour service that is not listed, please let us know. Whenever possible, our staff will be happy to help you by providing other special services or assistance or directing you to someone who can.
For any of the above services or assistance with a group tour, contact:
            Mark Lewis, President & CEO
            Greater Parkersburg CVB
            113 Ann Street, Parkersburg, WV 26101
            800.752.4982
            [email protected]