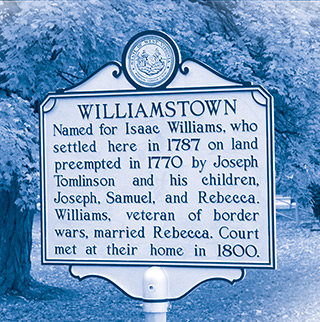 WILLIAMSTOWN
When Isaac and Rebecca Tomlinson Martin Williams founded in 1787 what is the city of Williamstown, they were already seasoned veterans of the Ohio Valley Indian Wars.
He was born in 1737 in Pennsylvania but grew up near Winchester, Virginia. She was a native of Maryland but had moved near Wheeling on the Ohio River when an adolescent. The 400 acres of land on which they settled in 1787 belonged to her. It was a gift from her brothers who had claimed it earlier by marking trees as a boundary, clearing enough of the forest to plant a field of corn and then living on the site in a crude log cabin until the crop was harvested.
In its earliest years, Isaac and Rebecca's little settlement was called "Williams Station" and "Fort Liberty." By the early 1800s it had taken the name "Williamsport" which its citizens in the mid-century changed to the present Williamstown. Although primarily a residential community, Williamstown today is home to a number of small businesses.