There are some fantastic shopping opportunities in the Mid-Ohio Valley. Here is a printable shopping trail of our Parkersburg & Marietta Partners. As you drive along you might just see some other shops that catch your eye!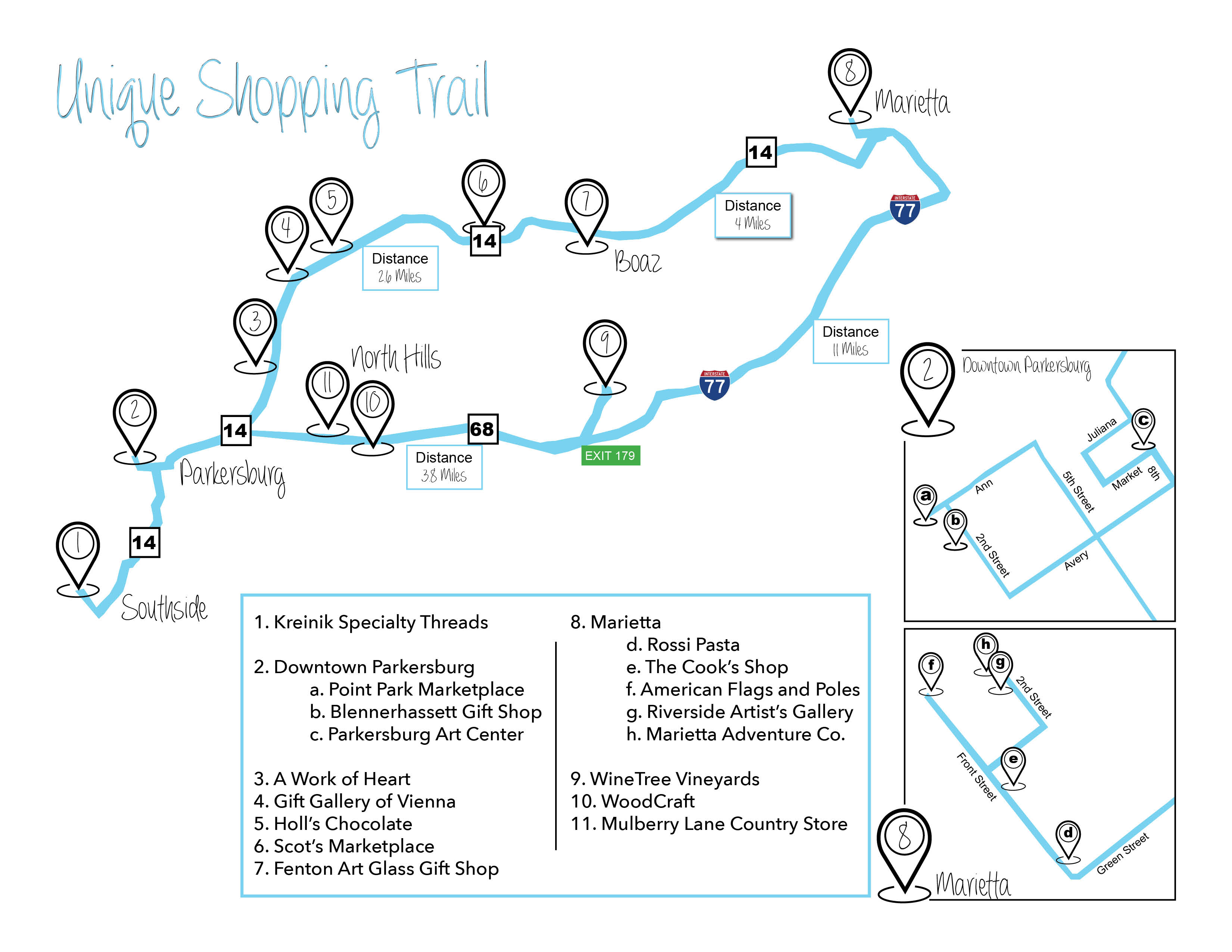 Starting on the Southside:
708 Gihon Road, Parkersburg, WV
800.537.2166 or 304.422.8900
kreinik.com
Manufacturer of quality threads and yarns for needleworkers, crafters, scrapbookers, quilters, fiber artists, fly fishermen—even fashion houses—to express their creative selves. A factory outlet and factory tours (by appointment).
2. Downtown Parkersburg
113 Ann Street, Parkersburg, WV
304.893.9510
pointparkmarketplace.com
A collection of quaint and unique local retailers located along the floodwall at the confluence of the Ohio and Little Kanawha Rivers. Shops include: a winery, bakery, a frozen custard stand, local produce and more!
137 Juliana Street (in Blennerhassett Museum), Parkersburg, WV
304.422.0611
Large selection of postcards, souvenirs, unique gift items, jewelry, books, and more. Operated by the Blennerhassett Historical Foundation for the benefit of the Blennerhassett Museum and Mansion.
725 Market Street, Parkersburg, WV
304.485.3859
parkersburgartcenter.org
Unique hand-crafted items made by local artisans. Selections include artwork, photographs, jewelry and much more. Celebrating more than 40 years.
100 Grand Central Avenue, Vienna, WV
304.420.9006
aworkofheart.biz
Over 7000 sq. ft. of framed art, inspirational signs, garden, and regular flags, jar candles, painted furniture and more. Two laser engravers to personalize
1515 Grand Central Avenue #6, Vienna, WV
304.893.9199
facebook.com/giftgalleryofvienna
We offer a unique collection of jewelry, candles, and inspirational items. Our experts are able to help select the perfect gift for any occasion. A large selection of our items are Made in the USA, including our Alex an Ani collection.
2001 Grand Central Avenue, Vienna, WV
304.295.6576 or 800.842.4512
holls.com
Bring home a taste of Switzerland. Holl's uncompromising commitment to sourcing the finest ingredients and the attention to detail that comes from a classically trained Master Chocolatier ensures you an extraordinary chocolate experience.
6303 Grand Central Avenue, Vienna, WV
304.295.6303
scotslandscape.com
Visit our 1890 grist mill and enjoy our unique gift items, everything for your lawn and garden, plus a visit to "the Sugar Grove" for hand dipped ice cream. Open all season!
2242 Williams Highway, Williamstown, WV
800.319.7793 or 304.375.7772
fentonartglass.com
Vintage Fenton Art Glass and unique gifts are available along with a variety of limited edition glass made at other glassmaking facilities (Using the Fenton moulds) and hand painted by Fenton artists. A website, Facebook and weekly e-newsletter.
8. Marietta
106 Front Street, Marietta, OH
740.376.2065 or 800.227.6774
rossipasta.com
A landmark for gourmet enthusiasts since 1981, this factory outlet and gourmet shop features all-natural, handcrafted pasta in over 20 flavors and cuts. Also find sauces, spices, freshly baked breads and gourmet gift baskets.
180 Front Street, Marietta, OH
740.538.6003
thecooksshop.com
Everything for the kitchen–fine cutlery, cookware, herbs and spices, bakeware, cooking classes, small appliances, barware, coffee and tea, linens and hundreds of kitchen gadgets. Check our website for class schedules.
276 Front Street, Marietta, OH
740.373.4262 or 800.262.FLAG (3524)
americanflags.mysimplestore.com
Celebrating 20 years downtown!
Extensive assortment of flags, banners, and poles. Outdoor/seasonal décor. Gifts for all ages. Souvenirs. Free shipping. Play antique music machines. Pet the dogs! "Where it's FUN to SHOP!"
219 Second Street, Marietta, OH
740.376.0797
riversideartistsgallery.com
One-of-a-kind fine art and gifts created by local artists. Handcrafted artwork includes stained glass, fabric art, jewelry, painting, ceramics, fine art, gourds, ornamental ironwork and more. We offer art classes, workshops, and date to create parties.
219 B Second Street, Marietta, OH
740.538.0801
mariettaadventurecompany.com
A full-service bicycle and kayak shop: Brands include Specialized bikes, Perception, Dagger, and Wilderness Systems kayaks and Mad Rock Climbing gear. Also offering bicycle/kayak rentals and shuttle service!
772 Jesterville Road, Parkersburg, WV
304.865.0507
winetreevineyards.com
Visit our winery and sample our national award-winning wines! The farm offers tours of the winery and vineyard as well as sampling and sales.
4420 Emerson Avenue, Parkersburg, WV
304.485.4050 or 800.225.1153
woodcraft.com
Since 1928, Woodcraft has been the source of quality woodworking tools, supplies, wood, books, plans, and advice to generations of woodworkers. Woodcraft's retail stores, catalog, and website provide today's woodworkers with expert, friendly, knowledgeable service.
4009 Emerson Avenue, Parkersburg, WV
304.428.1949
mulberrylanewv.com
West Virginia's largest country store. Unique folk art, seasonal decorations, home accessories, furniture, pottery, candles, gourmet kitchen, bears, Cats Meow, Old World Christmas, Jim Shore, Vera Bradley and fashion jewelry and accessories.
Other Unique Shops to check out along the way!
Southside:
1606 Dupont Road, Parkersburg, WV
304.428.0566
shirtfactoryonline.com
Retail sporting goods store that also does team and corporate sales as well as screen printing, embroidery, trophies, medals, service awards, fundraisers and school jackets.
Downtown:
320 Market Street, Parkersburg, WV
304.422.3131 or 800.262.2536
theblennerhassett.com
Located adjacent to the lobby in The Blennerhassett Hotel, the Blennerhassett Shoppe and Coffee Bar features Starbucks® regular, decaffeinated and specialty coffee drinks. Find a variety of unique gifts and items by West Virginia artisans and specialty wines.
Belpre:
1816 Washington Boulevard, Belpre, OH
740.423.1300 or 866.979.8327
unicornwineguild.com
Winery, tea room, coffee house, unique gifts, gift baskets and home winemaking supplies. Afternoon tea by reservation. Meeting area, great for showers and small parties up to 40 people. Make your own wine at the winery and be sure to check our website for current events.
Marietta:
4339 State Route 60, Marietta, OH
740.373.0996
houseofwines.com
Casual, American restaurant featuring French-trained chef/owner who develops seasonal menus from fresh ingredients. Take advantage of the vast selection of wines at state minimum pricing and the largest selection of craft beers in the area.