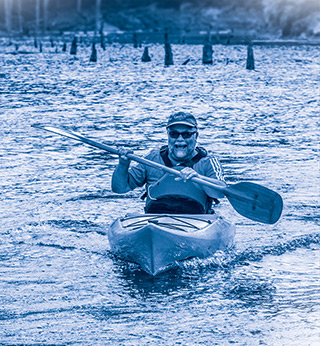 Join us for Parkersburg Paddlefest on September 15-16 2023!
Parkersburg Paddlefest is a fun-filled event dedicated to people-powered watercraft. Kayaks, Canoes, and Stand-up Paddleboards are welcome to join us at Point Park for this unique event. The confluence of the Ohio and Little Kanawha Rivers is the setting for the event.
Paddlefest weekend starts off on Friday night with food trucks and live music from 6 – 8 p.m. followed by a lighted paddle up the Little Kanawha River from Point Park at 8 p.m. Electric lights and glow sticks illuminate the group on this opening night event.

The main event on Saturday 8 a.m. to 2 p.m., provides a unique opportunity to paddle a three-mile stretch of the Ohio River, from Point Park downriver to Blennerhassett Island and back. Safety watercraft will be on hand to slow private motorized craft passing through. On Blennerhassett Island, the staff and volunteers at Blennerhassett Island Historical State Park will be welcoming Paddlefest participants to tours of the Blennerhassett Mansion, horse-drawn wagon rides, and special events and activities. (an additional fee)
10:00am: Horse-drawn wagon rides will start on the hour and run on the hour and half hour for $10 per person.
10:15am: Tours of the Mansion will start at 10:15 and run on the 15 and 45 for $5 a person.
Anytime: Rent a bike for a 1/2 hour for $2 and an hour for $4.
Free Activities: TBA
Registered Parkersburg Paddlefest Participants are insured by the American Canoe Association (ACA) throughout the duration of the event.
*If you are planning on registering on the morning of Paddlefest, please bring cash of the correct amount of $20 per paddler.
Marietta Adventure Company and Human Hydro Outfitters are great options for kayak rentals. You'll need to bring your own transport equipment for pick up. Wild River Kayak Company offers kayak rentals and shuttle services out of Marietta and Parkersburg. If you're planning on attending the farewell paddle at North Bend Lake on Sunday, they have kayak rentals right on the water at North Bend Outfitters.
DIRECTIONS: GPS Coordinates for Point Park: 39.266376, -81.566279 – At the base of 2nd street drive through the flood wall and turn left. WATCH for "Kayak Drop Off" and "#PKBPaddlefest" Signs!
Have Questions? Give us a call at 304-428-1130. Any questions may be directed to [email protected]